Ipparco
By land and sea
Ipparco is a sofa that belongs to the "Amaranthine Tales" collection, a tribute that Promemoria has paid to time and its indefinable and unstoppable flow.
The structure of the sofa is made of wood, available in different essences, completed by seat and back cushions in removable fabric.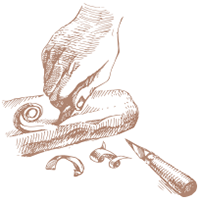 Craftmanship
As testimony to a legendary art, Promemoria pieces represent the highest expression of the purest Italian excellence. Craftsmen through ancient techniques and fine materials create an extraordinary symphony of traditions.
Products of the collection