Silvestro

Everything is color
Silvestro is a small table with wheels that belongs to the "Indigo Tales" collection, inspired by the countless expressions of blue and the refined elegance of the indigo nuance.
Designed by Romeo Sozzi, the table is in maple, light grey mahogany, light grey sucupira. The design is completed by two small drawers, with leather details and placemats.
The small table Silvestro, nice and determined as the famous feline from which it takes its name, is available with inlaid amaranth cats.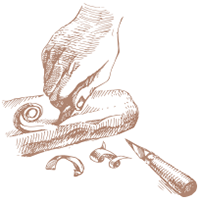 Craftmanship
As testimony to a legendary art, Promemoria pieces represent the highest expression of the purest Italian excellence. Craftsmen through ancient techniques and fine materials create an extraordinary symphony of traditions.
Products of the collection