Autumn vibes

The "fall foliage" inspiring palette of colors
The picturesque landscape of Lake Como, along with the mountains surrounding Lecco, have always been a source of great inspiration for Promemoria and especially for Romeo Sozzi's creations. Autumn is a time to step back and calm down. It puts on a spectacular display of colors throughout the lake area, turning the landscape into a palette of great beauty. The shades of orange, intense browns and gold, contrasting with the bright blue skies casting reflections on the water, is a natural, stunning, gift to admire and be thankful for.
---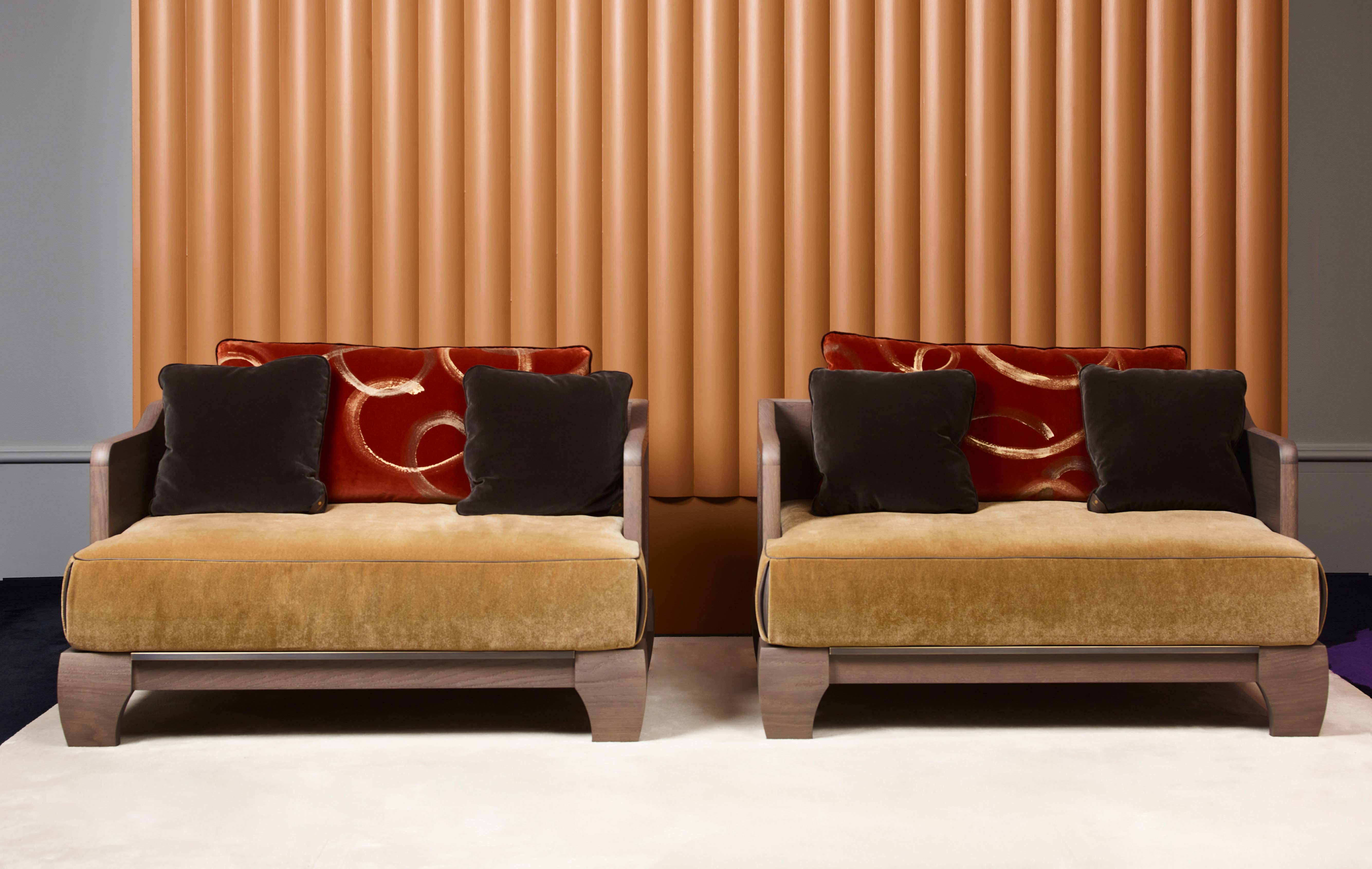 Ming and its precious features
An haute couture piece embellished with little precious details: leather pipings, cashmere velvet seating, pinces on the sides in leather, a hand-painted cushion developed by Romeo Sozzi along with the mastery of weavers.

NEW FINISHINGS IN COLLECTION
Presented for Milano Design Week 2022, our new finishings from the Sahel Collection are now part of Promemoria's Atelier of Beauty.
The Sahel Fabric Collection
Different natural, sustainable, rough fibers make up an assortment of yarns of various levels of thickness. Hand painted fabrics presenting simple brown and beige shapes on a white background, and darker colors with flamboyant twisted elements. The abstract lines provide the patterns with dynamism and movement, just like the grooves in the sand left by the passing of caravan trails.
Brushed & Sandblasted Oak
The natural wood grain is stunningly emphasized by the sandblasting process: a high-pressure jetstream of sand is sprayed on the surface of the solid wood. The brushing technique adds even more materiality to the solid oak. A tangible, pure, feeling to the touch for a material that so well represents such a distinctive, sophisticated natural element of the Italian landscape.
Travertino ​​​​Noce Marble
Marble of great technical and aesthetic qualities, which always characterized its usage in the field of architecture. Quarried in Tivoli, near Rome, and marked by strong color variations. Its unique characteristics derive from its formation: the ascent and the outflow of thermo-mineral water create a stratification of carbonate material, resulting in a magnificent play of warm nuances.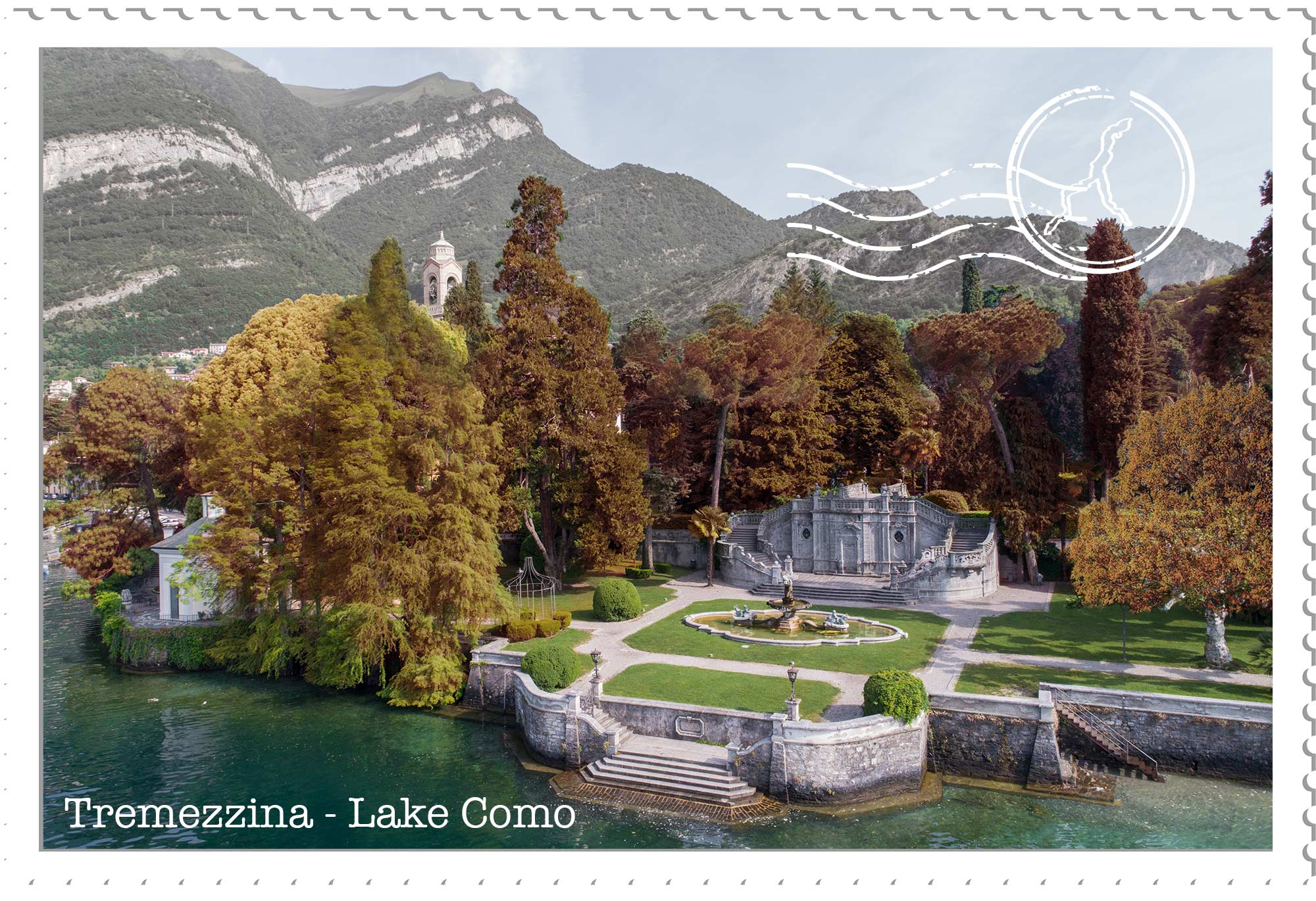 Teresio Olivelli Park
Little botanical and architectural jewel located in Tremezzina, on the shores of Lake Como. Formerly known as Giardino Meier, it may be one of the best kept secrets of this beautiful area. It was redesigned in the mid-1920s for the Meier family, by rationalist architect Pietro Lingeri, from Tremezzo, who took inspiration from the Italian-style garden of Palazzo Colonna in Rome. Walking through this place, you get a taste of the colors and emotions of fall, thanks to the magnificent trees that surround it. You get stunned facing the majestic fountain, adorned with a female figure bathing with two dolphins ridden by children, and the romantic stone stairs that go down in the lake's clear waters. In the background, the grand double staircase in neo-Baroque style connects the bridge to the fountain and serves as a striking scenery that gifts a further perspective glimpse to this magical place.