Bottone

Ceci n'est pas un object
Promemoria furnishing accessories are much more than just objects for the home: they are small accents of style that complete the vision that Romeo Sozzi has of everyday life.
Bottone, ("button"), which takes its name from its particular shape, is a wall hanger in fabric or leather with bronze plate.
Available in two sizes.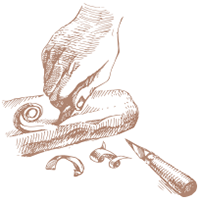 Craftmanship
As testimony to a legendary art, Promemoria pieces represent the highest expression of the purest Italian excellence. Craftsmen through ancient techniques and fine materials create an extraordinary symphony of traditions.