Rana in metallo

A legend from the beginning of time
For Romeo Sozzi, founder of Promemoria, the frog is a metaphor full of stories and legends. Symbol of evolution, nourishing creature since ancient times, benevolent genius close to God: there are many cultures that have invested the frog of power and charm.
Rana in metallo ("frog in metal") is available in nickel matt, glossy chrome, smooth dark bronze, gold and copper.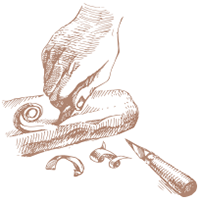 Craftmanship
As testimony to a legendary art, Promemoria pieces represent the highest expression of the purest Italian excellence. Craftsmen through ancient techniques and fine materials create an extraordinary symphony of traditions.