Roka Large

The lounge chair gets bigger
Roka Large is a large and soft lounge chair that comes to life from the shapes of the Roka chair.
It preserves the materials and distinctive features, extending its use, together with the dimensions: no longer just around the table, but also comfortable in the sitting room.
The structure is made of beechwood, the upholstery in fabric and leather, the arms in hammered bronze. The armchair is available with "punto sellaio" stitching and profile in leather.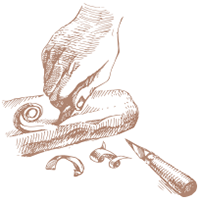 Craftmanship
As testimony to a legendary art, Promemoria pieces represent the highest expression of the purest Italian excellence. Craftsmen through ancient techniques and fine materials create an extraordinary symphony of traditions.