Shangri-la

Comfort & Relax
Shangri-la belongs to a family of modern upholstered furniture that combines leather with fabric.
The Shangri-la sofa has a base made of beechwood, with non-removable leather and fabric covering. Seat cushions with removable covers.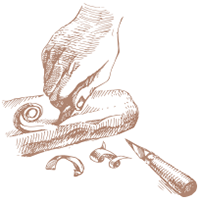 Craftmanship
As testimony to a legendary art, Promemoria pieces represent the highest expression of the purest Italian excellence. Craftsmen through ancient techniques and fine materials create an extraordinary symphony of traditions.