Alì Babà

Once upon a time
Alì Babà is a small table that belongs to the "Fairy Tales" collection, a hymn to fairy tales and the fascination of the story, which accompanies us in an elsewhere that makes the invisible visible.
Ali Babà knows the magic formula to transform itself from a table to a tray. Its structure is in hammered bronze, while the top-tray and feet in leather.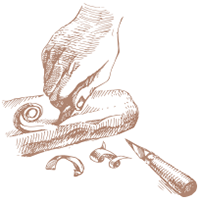 Craftmanship
As testimony to a legendary art, Promemoria pieces represent the highest expression of the purest Italian excellence. Craftsmen through ancient techniques and fine materials create an extraordinary symphony of traditions.
Products of the collection