Andalù

Luxury lives in the details
Andalù is, apparently, a simple dining table, but it is animated by many luxury details.
It has a wooden structure, available in various essences, with hammered bronze profile and feet.
In addition, Andalù can be customized with inlaid squared legs and inlaid squared or striped top, a result of the high skills of our craftsmen.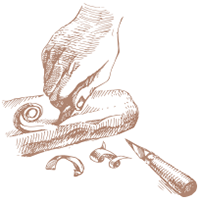 Craftmanship
As testimony to a legendary art, Promemoria pieces represent the highest expression of the purest Italian excellence. Craftsmen through ancient techniques and fine materials create an extraordinary symphony of traditions.