Artù

A giant of lightness
The Artù sofa invites you to sit down among its generous forms. The lines are soft but with a well-defined geometry.
The precious and warm fabrics contrast with the bronze feet that, as if by magic, support this impressive sofa, giving the sensation of floating in the air.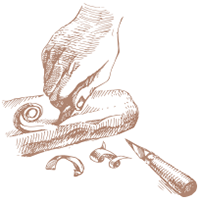 Craftmanship
As testimony to a legendary art, Promemoria pieces represent the highest expression of the purest Italian excellence. Craftsmen through ancient techniques and fine materials create an extraordinary symphony of traditions.