Candela

Ceci n'est pas un object
A candle is never just a candle. Often these small and discreet objects accompany the happiest moments of a lifetime, arousing memories, perfumes, senses.
That's why Romeo Sozzi, founder and designer of Promemoria, has decided to propose scented candles, in differents fragrances, to complete his collections of furniture, lights and furnishing accessories.
The candle holder and the saucer are in maple, with mahogany inserts and bronze details.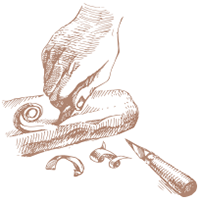 Craftmanship
As testimony to a legendary art, Promemoria pieces represent the highest expression of the purest Italian excellence. Craftsmen through ancient techniques and fine materials create an extraordinary symphony of traditions.