Tovaglietta americana

Ceci n'est pas un object
Promemoria furnishing accessories are much more than just objects for the home: they are small accents of style that complete the vision that Romeo Sozzi has of everyday life.
Tovaglietta americana patchwork ("American patchwork placemat") is created by combining different colors of leather, just as in the palette of a painter the nuances are combined and mixed, creating worlds and scenarios where previously there was monotony.
The texture of the placemat, obtained from high-level craftsmanship processes, make this object even more precious.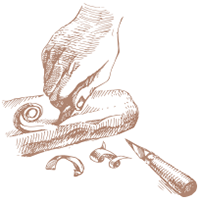 Craftmanship
As testimony to a legendary art, Promemoria pieces represent the highest expression of the purest Italian excellence. Craftsmen through ancient techniques and fine materials create an extraordinary symphony of traditions.