Ernest

A diligent secretary
Ernest, refined for materials and details, is a simple and linear writing desk.
The writing desk is made of wood, with oak frame. The upholstery is in leather as well as the interior of the drawers, the placemats and the pencil holder.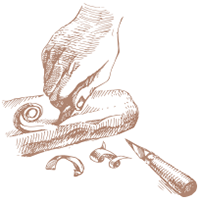 Craftmanship
As testimony to a legendary art, Promemoria pieces represent the highest expression of the purest Italian excellence. Craftsmen through ancient techniques and fine materials create an extraordinary symphony of traditions.