Nila
A minimalist work
Nila is an extremely contemporary dining table, characterized by simple lines and dimensions of great impact. The base is in medium smooth bronze, divided into elements that are separate from each other. The top is available in various types of wood or marble. The refinement of the sculptural base and the precious materials is combined with the essential lines, making Nila a minimalist work.
The dining table is part of the Nila family, which also includes a console, united by the same design.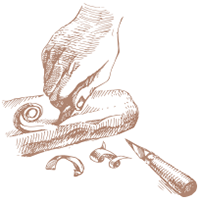 Craftmanship
As testimony to a legendary art, Promemoria pieces represent the highest expression of the purest Italian excellence. Craftsmen through ancient techniques and fine materials create an extraordinary symphony of traditions.
Products of the collection