Nila

Everything is color
Nila is a console that belongs to the "Indigo Tales" collection, inspired by the countless expressions of blue and the refined elegance of the indigo nuance.
Designed by Davide Sozzi, Nila combines a smooth medium bronze sculpture base with a wooden top, available in various essences or Green Bamboo marble.
The console, with its important dimensions, is lightened by the mix of solids and voids of its base and by the shine of bronze.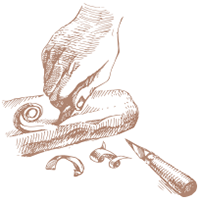 Craftmanship
As testimony to a legendary art, Promemoria pieces represent the highest expression of the purest Italian excellence. Craftsmen through ancient techniques and fine materials create an extraordinary symphony of traditions.
Products of the collection