Tom Bombadil Casette
Tom Bombadil is a iconic cabinet from the Promemoria collections, now re-proposed in the new The Casette version with doors inlaid is in light grey mahogany, natural amaranth, light grey ako, light grey sucupira, maple and ebony, with light grey mahogany structure and interior drawers, or in natural mahogany, louro faia, pear wood, ebony and canaletto walnut, with sapelli mahogany structure and drawers. The interior and shelves are in matt frisè Africa walnut; the back panel is backlit.
The inlay come to life illustrating silhouettes of ancient villages, memories of Lake Como. Like a jigsaw puzzle, a polychromatic image and spatial balance are achieved with many pieces of inlay in various wood species.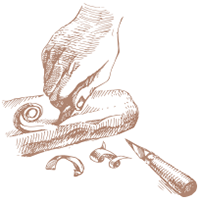 Craftmanship
As testimony to a legendary art, Promemoria pieces represent the highest expression of the purest Italian excellence. Craftsmen through ancient techniques and fine materials create an extraordinary symphony of traditions.