Tom Bombadil Sahel
The Sahel inlay
Tom Bombadil is a iconic cabinet from the Promemoria collections, now re-proposed in the new Sahel version with doors inlaid in matt frisé africa walnut, ebony, walnut, ash wood, pear wood, amaranth and grey linden, composing an interplay of light and shadow, scents and sensations.
The inlay, born from a sketch by Romeo Sozzi and inspired by his travels, represents the dunes of the desert that characterize The Sahel Desert Essence collection.
The research on combinations of wood finishes that would represent and give the idea of a perfect fusion in harmony, color and sensation led to the choice of these particular fine woods. Completing the design and the clean, linear figure are recessed handles and a central spacer in matt frisé africa walnut.
Available in two sizes.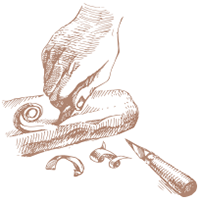 Craftmanship
As testimony to a legendary art, Promemoria pieces represent the highest expression of the purest Italian excellence. Craftsmen through ancient techniques and fine materials create an extraordinary symphony of traditions.
Products of the collection