Máni

The Máni wall lamp has been named after a character from the Norse mythology, Máni (the moon), since the material deployed resembles the Moon in the sky hazed by the clouds, which allows us to dream and to dive deep into the beauty of a legend at the edge of history.
The material in question is Calacatta Oro marble. The lamp is finished by smooth medium bronze details.
The light comes from the lighting system ICOSAEDRO LED, which has been designed by Promemoria.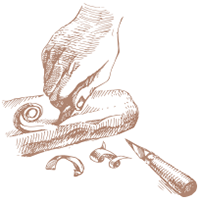 Craftmanship
As testimony to a legendary art, Promemoria pieces represent the highest expression of the purest Italian excellence. Craftsmen through ancient techniques and fine materials create an extraordinary symphony of traditions.
Products of the collection