Nagoya

Art craftsmanship
The Nagoya wall lamp belongs to the Capsule Collection by Bruno Moinard, a famous French designer who collaborated with Promemoria.
The lamp has a smooth medium bronze structure and an linen, cotton and silk shade with handmade border.
ICOSAEDRO
The need to create a low-energy light source that retained the same characteristics of light, color and directionality of the old incandescent light bulbs, led Promemoria's Research and Development department to patent an innovative and technological LED lighting system. Thanks to its particular shape, Icosaedro allows a 360° diffusion of the light spectrum, unlike all the other LED systems that are unidirectional. The intense brightness of Icosaedro is given by its geometry, which allows to accommodate up to 12 LED chips on each triangular face.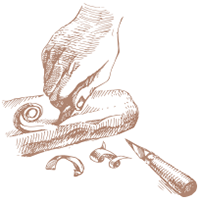 Craftmanship
As testimony to a legendary art, Promemoria pieces represent the highest expression of the purest Italian excellence. Craftsmen through ancient techniques and fine materials create an extraordinary symphony of traditions.