Dorian

The quintessence of comfort
Huge in proportions, welcoming, generous: it is the quintessence of comfort, thanks to the association of feathers and springs and the long time necessary for its realization.
Able to converse with modern and stylish furniture, its distinguishing mark is prestige. The Dorian sofa can be customized in different sizes and shapes; it has a beechwood base and is covered in non-removable fabric or leather.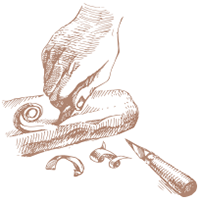 Craftmanship
As testimony to a legendary art, Promemoria pieces represent the highest expression of the purest Italian excellence. Craftsmen through ancient techniques and fine materials create an extraordinary symphony of traditions.
Products of the collection