Tornasole

Design and features
Tornasole is a dining table available in three sizes. The smaller version is available in white Carrara marble, Breccia Medicea or white or gold onyx with a bronze base and profile.
The medium and large versions (191.5 cm in diameter) have wooden top and leg in the various essences, with central decoration, base and profile in bronze.
This table is completed by a Lazy Susan revolving plate, in sizes ø70 or ø90 cm.
Tales from the Rising Sun
A flower that owes its inspiration to light and nature. Tornasole, a sumptuous and delicate dining table as only a sunflower can be.
Its corolla is a flourishing of radial or simple inlays, almost a sundial of time that passes quickly, when one converses in good company around it.
Important by vocation
There are products that are important by vocation, due to their shape, materials, weight and proportions.
This is the case of Tornasole, which, starting from the bronze pedestal, claims to belong to the world of classical furnishings.
It is designed to be hospitable and gather a large number of people around the "rays" that inlay the top; or able to perform, alone in the center of a room, a role of prestige.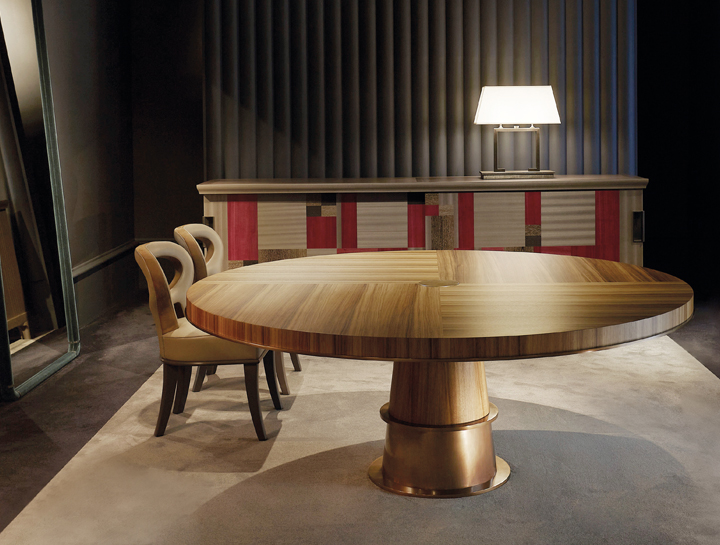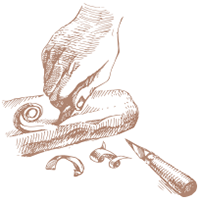 Craftmanship
As testimony to a legendary art, Promemoria pieces represent the highest expression of the purest Italian excellence. Craftsmen through ancient techniques and fine materials create an extraordinary symphony of traditions.
Products of the collection