Bacco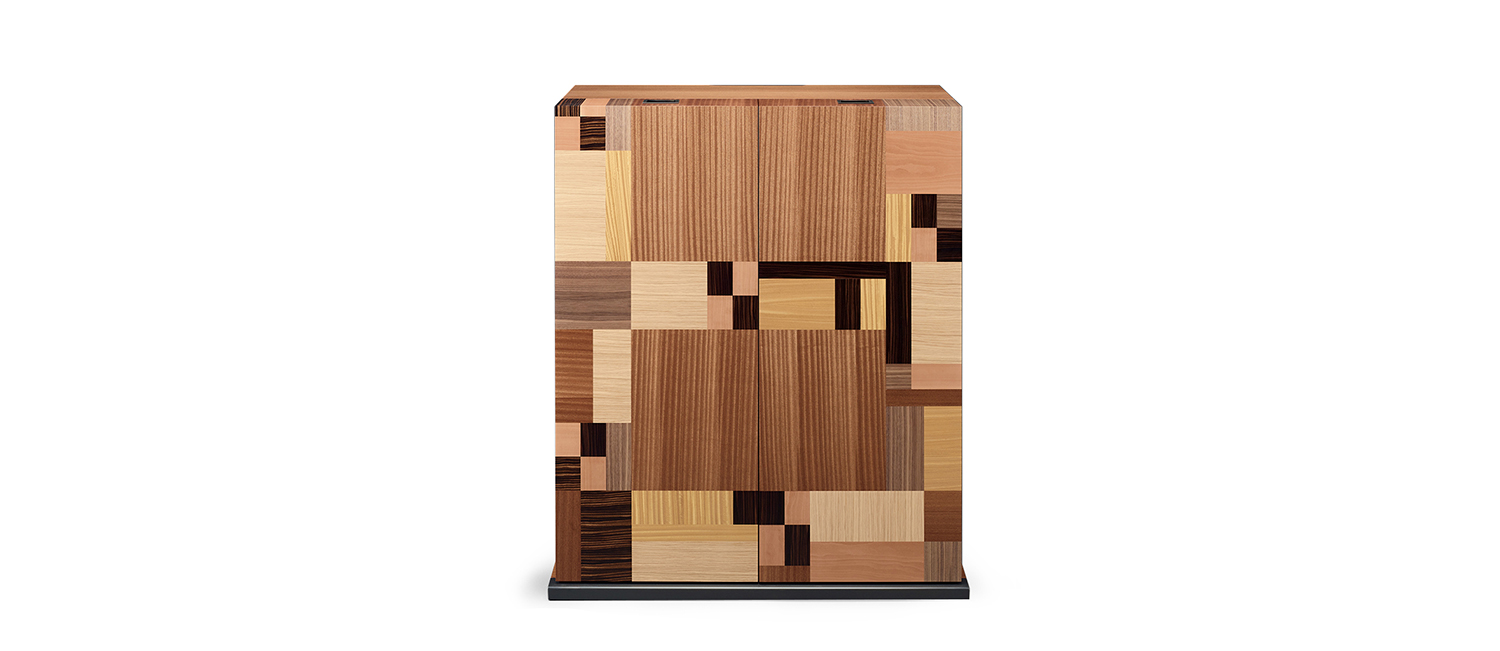 A cabinet-bar with two souls.
Born in 2010 from the will of Romeo Sozzi to celebrate the hedonistic sharing of conviviality. If closed Bacco reveals the shape and finishes in wood, once opened it reveals a rich interior accessorized with shelves and cup holders in leather, bevelled mirrors and LED lighting, which make it - as well as functional - highly scenographic.
Bacco has a wooden structure, with base, profiles and handles in bronze.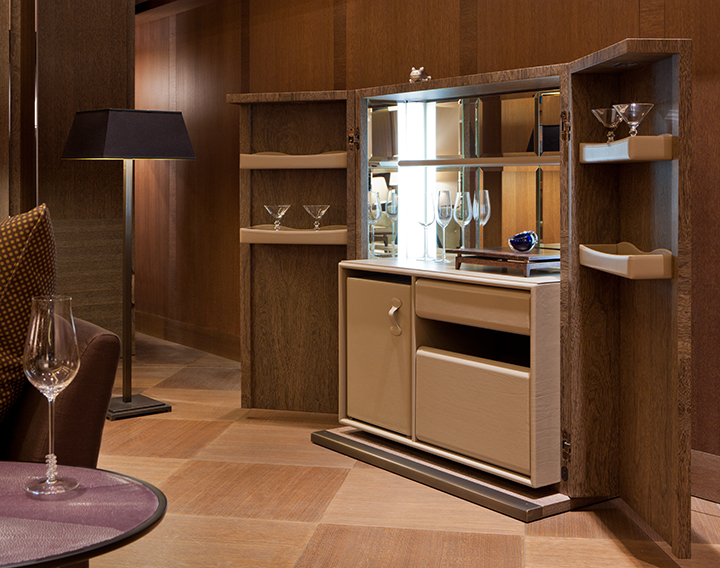 A living room theater
For Romeo Sozzi, food is more than anything else a moment of sharing. Wine then becomes the excuse to be together and share the beautiful things of life. Bacco cabinet-bar contains the powerful metaphor of conviviality.
Beautiful and mysterious when closed, once open it reveals a paradise for hedonists, where wines can be stored and tasted at the right temperature and cocktails can be prepared.
Sumptuous for the choice of materials and finishes, Bacco is a fully custom made cabinet-bar, which shows all the skill of the craftsmen of Promemoria to create unique and immersive worlds.
Wooden essence
A tribute to Bacchus, a Roman god of libations, of wine and of joyous intoxication, this cabinet-bar functions like an authentic living room theater.
A highly sophisticated staging mixes drinks and precious woods and can enclose leather containers inside: drawers, refrigerator and even a flat-screen television.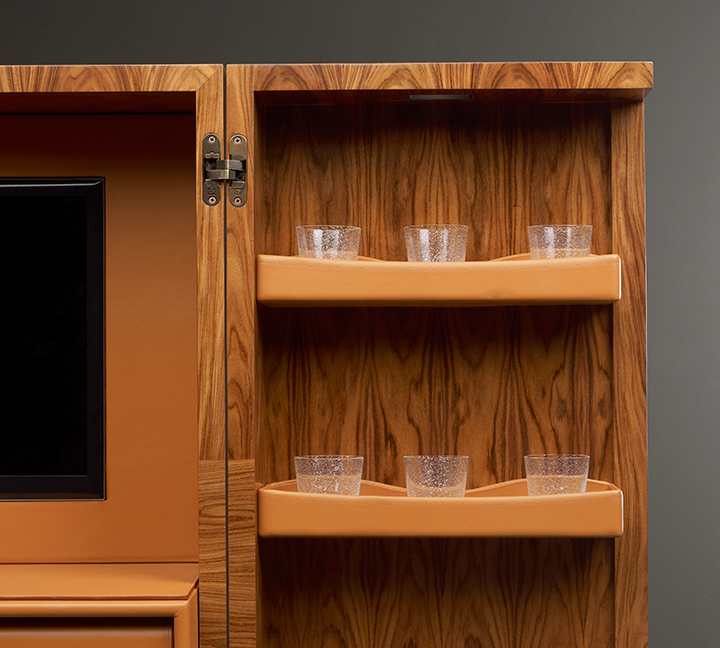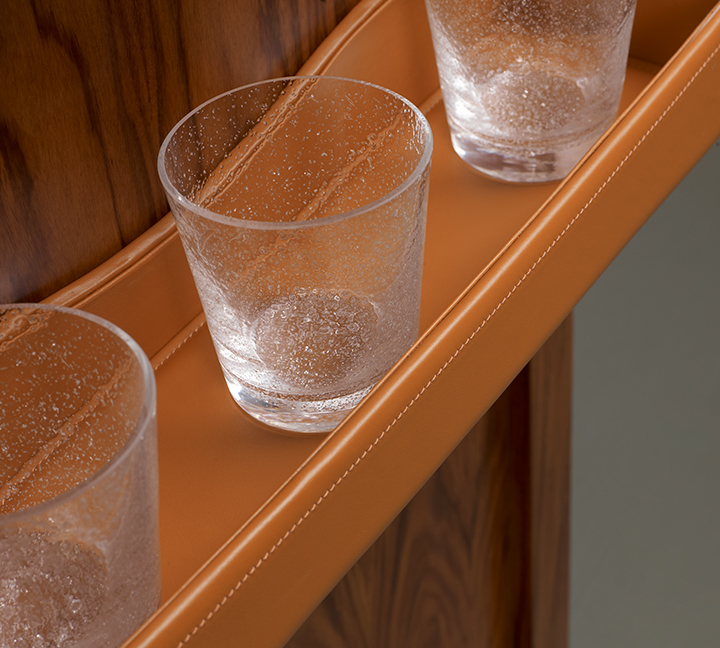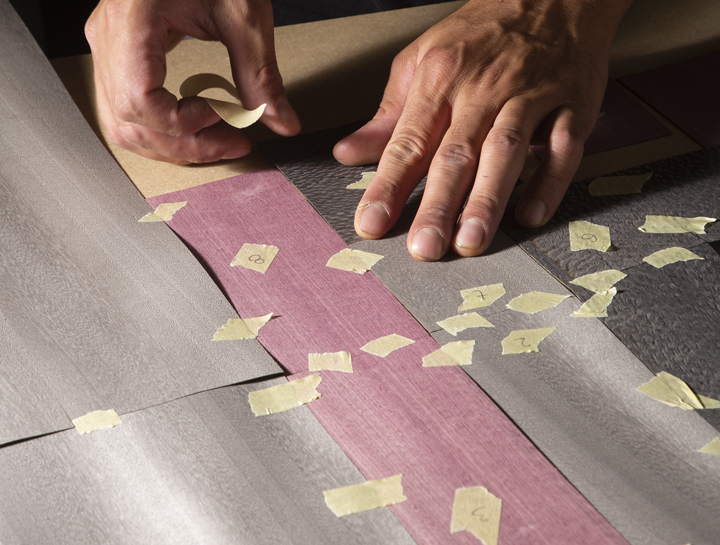 The patchwork inlay
A play of nuances and colour interpretations of wood, telling a new vision of a well-established classic, recovering scraps of precious woods left in small quantities and otherwise no longer usable, combining them with each other through the art of inlay.
And so, it was born Bacco with patchwork doors.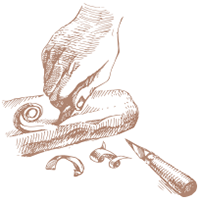 Craftmanship
As testimony to a legendary art, Promemoria pieces represent the highest expression of the purest Italian excellence. Craftsmen through ancient techniques and fine materials create an extraordinary symphony of traditions.
Products of the collection