Kalì Nikta
Goodnight, traveller
Kalì Nikta, or "goodnight" in Greek. This headboard belongs to the "Night Tales" collection, launched by Promemoria in 2016 to celebrate the moment of maximum intimacy of a home: the night.
The upholstery of Kalì Nikta is made of fabric, with a beechwood, mahogany or leather profile.
The headboard can be accessorised with bands with bedside tables and leather shelves with LED lighting and bronze drawer fronts for the wood version, with stripe and central side in fabric.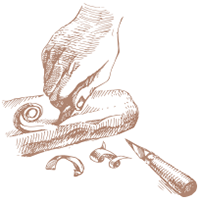 Craftmanship
As testimony to a legendary art, Promemoria pieces represent the highest expression of the purest Italian excellence. Craftsmen through ancient techniques and fine materials create an extraordinary symphony of traditions.
Products of the collection