La Belle Aurore

Full moon glow.
La Belle Aurore is a cabinet with two souls. The exterior is a discreet glow, with its closed wooden front illuminated in the center by the large bronze button. The interior has another face: spaces to be defined, lights and reflections.
La Belle Aurore has a wooden structure in various essences with bronze top and handle, methacrylate base, interior, drawers in wood with bronze fronts, leather placemats, LED lighting.
La Belle Aurore is also available in a special finish inlaid, presented in the "Amaranthine Tales" collection.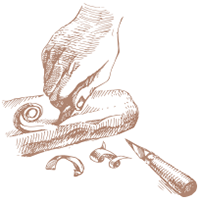 Craftmanship
As testimony to a legendary art, Promemoria pieces represent the highest expression of the purest Italian excellence. Craftsmen through ancient techniques and fine materials create an extraordinary symphony of traditions.
Products of the collection