Gong

Ductility and aesthetics
The chest of drawers Gong has a modern line, obtained thanks to the ductility of bronze. Like all Promemoria creations, Gong is characterized by soft finishes and extreme attention to detail.
Gong has a bronze structure, covered in fabric or leather. The knobs are truncated cones (for the fabric version) or in leather (handmade). The interiors are in oak. Available with hammered bronze structure.
The chest of drawers Gong is part of a large family of furniture bearing the same name.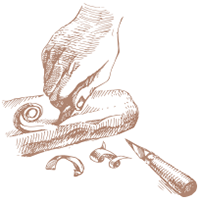 Craftmanship
As testimony to a legendary art, Promemoria pieces represent the highest expression of the purest Italian excellence. Craftsmen through ancient techniques and fine materials create an extraordinary symphony of traditions.